Vitamins are organic compounds that are needed in small quantities to sustain life. Most vitamins need to come from food.
This is because the human body either does not produce enough of them, or it does not produce any at all.
Each organism has different vitamin requirements. For example, humans need to consume vitamin C, or ascorbic acid, but dogs do not. Dogs can produce, or synthesize, enough vitamin C for their own needs, but humans cannot.
Wholegrain Apple pancakes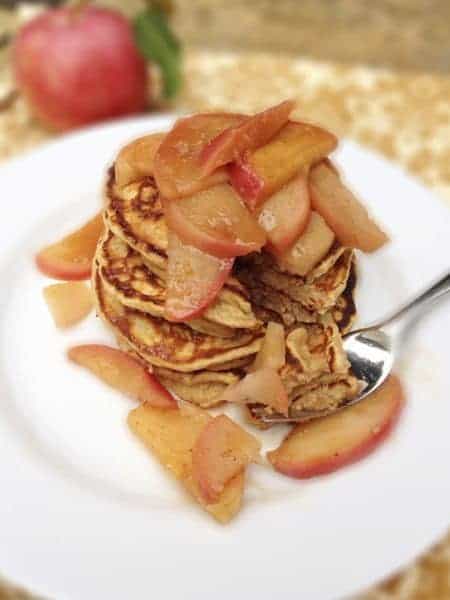 Ingredients
2 cups whole grain pancake mix such as Bob's Red Mill 7 Grain
1 medium apple grated
1/2 ripe banana mashed
2 eggs
1 1/2 cups fat free milk or almond milk
2 tablespoons plain yogurt low fat or any flavor yogurt
1 tablespoon canola oil or melted coconut oil
2 teaspoons cinnamon
1 teaspoon nutmeg
1/4 teaspoon ground cloves
Warm Apple Topping
1/2 teaspoon butter unsalted
3 apples cored and thinly sliced
1/4 cup apple cider or water or apple juice
1 teaspoon cinnamon
1 teaspoon fresh grated ginger or 1/2 teaspoon ground
1 teaspoon vanilla
1/2 teaspoon nutmeg
1/4 teaspoon ground cloves
Instructions
In a large bowl, stir together pancake ingredients until combined (pancake mix through ground cloves.) (Be careful not to over-mix so that the pancakes turn out light and fluffy. Lumps are ok!)

Heat non-stick griddle or frying pan over medium-high heat and spray with cooking spray.

Pour batter on to griddle 1/4 cup at a time. Flip once bubbles start to form and cook an additional minute or so until the other side is browned. Continue until batter is gone.

While pancakes are cooking, prepare the warm apple topping. Start by melting butter in a small sauce pot over medium heat. Begin cooking apple slices in butter for 2-3 minutes stirring frequently.

Add cider, cinnamon, ginger, vanilla, nutmeg and cloves then stir until combined. Bring mixture to a boil then reduce heat to low and simmer for 15-20 minutes stirring occasionally.

Serve pancakes with warm apple topping.